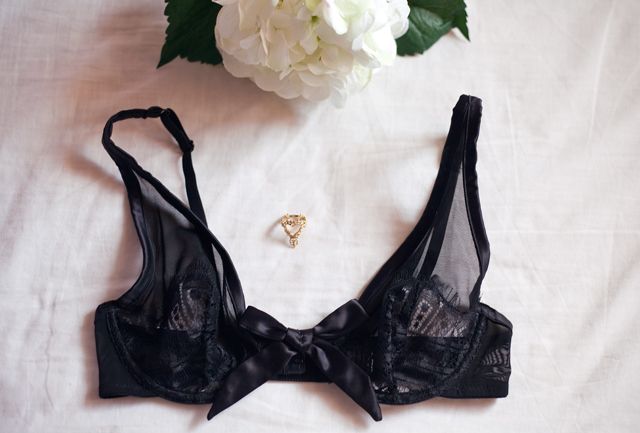 After weeks of complaining that my back was always sore, my partner pointed out that I was clearly wearing the wrong bra size. This information kind of blew my mind. It turns out that the red marks which lasted for hours after taking them off were not meant to be there! When I stopped to think about it, my last proper fitting was a good ten years ago. Had it really been that long?! Admittedly, yes, I have generally only shopped at department stores for lingerie and most of the time the shop assistants were too busy to help me. I must admit to thinking, 'I have nothing there, I should leave them to help the bigger ladies.' Places like Myer have a fittings guide stuck up in the change rooms, and I pretty much went off of that. I guess this was not 100% accurate.
So, I set aside a few hours and went looking for some new support. The women at Myer, Perth were not very helpful. When I had gone into the change rooms I said to the sales woman that I had not had a fitting in ten years and may need help. This was met with a half smile and the number-of-items card being shoved in my direction. I ended up finding a ton of sizes and styles to try on, and then worked out which were obviously better or worse. I narrowed it down to one size and shape that felt right for me, which was a lot bigger than I had been wearing, pressed the 'help' button and within seconds the conversations about dining, health issues and other things being bandied about ceased and a woman came to help. She was quick and unfriendly, I felt I had interrupted something important. When I asked if this bra was the right size she quickly turned me from side to side, ran her eyes over the back and front and declared, "Yes, that is fine." Closed the door, and left.
This was my 3 second bra fitting.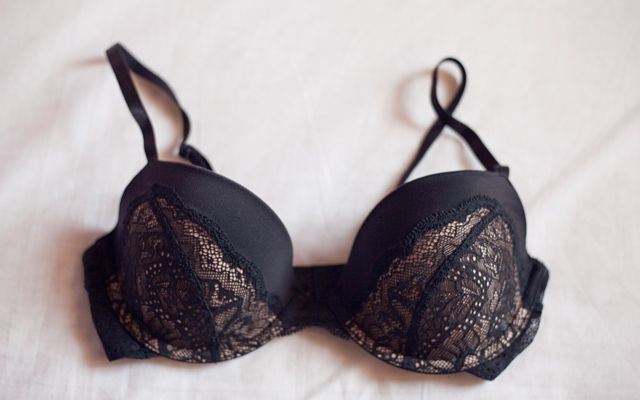 Once I knew what size I was after I went back out to find more to try in the right size, and eventually decided which were for me and which were not. I didn't ask for more help and ended up with one lace
Calvin Klein Black Label
padded bra, and two Lovable wire-free t-shirt bras.
Next I thought I would try a store recommended to me by friends, Bras-n-Things. Seconds after I walked into the store a young, happy salesgirl came up and said hello, and asked if I need help finding a size. Unfortunately they had no wire-free bras, (some had removable wires, but all were also padded) but she was very helpful. I found an unpadded lace bra, tried it on and happy with the fit, was in and out in minutes. The sales people were helpful, but the range wasn't so great. I don't really need a lot of padding or wire to hold me in/ up, so their target audience wasn't so much for me. The prices were quite low, but I am not sure if all styles are of the best quality.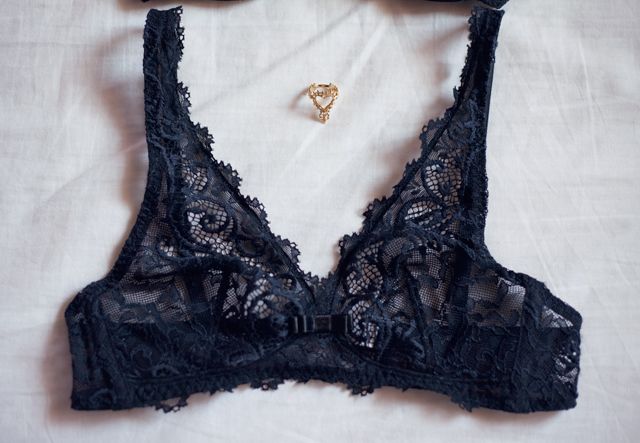 Finally I hit up
Simone Perele
, a french brand with beautiful lace lingerie. I loved this stretch lace bralet, which also came in red or cream. The sales staff were really warm, friendly and helpful. In future I will start here (the Harbour Town store) and go from there. The store was beautiful, the change rooms felt far more elegant than I would expect of Harbour Town, and the quality of the lingerie very impressive. Through the Simone Perele website I also discovered
The Lingerie Mag
, a beautiful blog by Parisian resident Audrey Murga. Unfortunately my only knowledge of the French language comes from my too brief time in the country and obsession with French cinema. Sadly this is not enough for me to read Audrey's words, but the images are beautiful.
The Simone Perele website has bra fitting tips, which I will add below. Find more on their website
here
.
Steps for a perfect bra fitting…
1. Fasten the bra in the middle hook. If it is too tight move up to a larger (under bust) size and smaller cup.
2. Position the midriff band so that the front and back are the same height, ensuring the separator is in the centre of each breast.
3. Use the shoulder adjustment rings to find the right length. Straps too tight will crush the bust, and too loose are unflattering to the neckline.
4. Finally, adjust your bust in the bra by leaning forward slightly. Underwires should go around the breasts. Use your hand to position the nipple under the cross cup seam, at the top of the dart or in the centre of the cup, depending on the style.
Have you found any good lingerie stores or brands that you would recommend?
Hit me up with comments below!
xx Jenelle